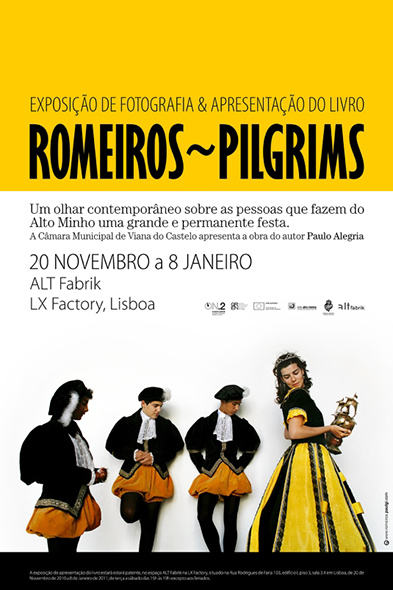 A apresentação do livro ROMEIROS~PILGRIMS de Paulo Alegria, será acompanhada por uma exposição de fotografia que estará patente, no espaço ALT Fabrik na LX Factory em Lisboa, de 20 de Novembro a 8 de Janeiro (Terça a Sabado, 15h-19h excepto feriados) de 2011.
The presentation of the Paulo Alegria's book ROMEIROS~PILGRIMS will be followed by a photo exhibition that will feature at the ALT Fabrik space at LX Factory in Lisbon, Portugal, from 20 of November to 8 of January (Tuesday to Saturday, 3pm-7pm except holidays) 2011.
ALT Fabrik, LX Factory
Rua Rodrigues de Faria 103
Edifício I – piso 3 – sala 3.4
Lisbon, Portugal
Artigo de crítica, por António Lopes, ao livro "Romeiros~Pilgrims" de Paulo Alegria e exposição de apresentação em Lisboa no espaço Alt Fabrik na LX Factory. Publicado no blog "Desenhos com Luz" da APAF, Associação Portuguesa de Arte Fotográfica, no dia 23 de Dezembro de 2010.