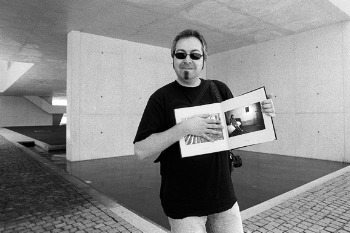 Paulo Alegria (Paulgi), was born in 1970 in Oliveira de Azeméis but he is living and working in Viana do Castelo. He published his first book, a bilingual work entitled Romeiros~Pilgrims in 2010, which is a contemporary portrait of the people who go on pilgrimage to the fair and religious events in Alto Minho (north of Portugal) and all the traditions involved. The following year, he was in charge of the cinematography of Alto do Minho, an ethnographic poetical documentary work on the identity of people from Alto Minho, and he was awarded with the Estação Imagem grant from Mora (south of Portugal), where he developed an intense photographic work close to the population of the municipality of Alentejo, documenting their cultural, sporting, recreational and humanitarian associations, which resulted in the book Lean Culture published in 2012. He graduated in Graphic Design and developed his knowledge in other areas such as Architecture, Visual Arts, Engraving, Screen printing and Photography. He was a member of several music bands and released a solo album, some singles and other promotional works under the name of NEON, being the first Portuguese musician invited to perform on the official stage at the Cannes Festival. He has kept working on the recording industry for a number of years, specialized in the music market and multimedia, working as creative director in one of its largest companies in Portugal. He was also the author and mentor of the radio show Parallax, broadcast from dozens of local radios all over the country. In the last few years his photographic work has been published both national and internationally. His works are on regular basis at exhibitions, either with other artists or alone, be it in Portugal or abroad. He is a member of ALT (a Portuguese association of independent photographers) and he was in the elite team of the former cooperative Young Photographers United, in the early years of activity.
Paulo Alegria (Paulgi), Nasceu em 1970, em Oliveira de Azeméis, mas vive e trabalha em Viana do Castelo. Em 2010, publicou o seu primeiro livro; a obra bilingue, intitulada Romeiros~Pilgrims, é um retrato contemporâneo das pessoas que se deslocam às romarias alto-minhotas e das tradições que nelas se manifestam. No ano seguinte, foi o responsável pela cinematografia do filme Alto do Minho, trabalho documental etnopoético sobre a identidade do povo alto-minhoto, e foi-lhe atribuída uma bolsa pela Estação Imagem de Mora, onde desenvolveu um intenso trabalho fotográfico próximo da população do concelho alentejano, documentando o seu associativismo cultural, recreativo, desportivo e humanitário, que resultou no livro Cultura Magra publicado em 2012. Formou-se em Design Gráfico e passou por outras áreas do conhecimento, como a Arquitectura, a Educação Visual, a Gravura, a Serigrafia e a Fotografia. Foi membro de várias bandas de música e editou um álbum a solo, singles e vários trabalhos de âmbito promocional com o nome de NEON, tendo sido, também, o primeiro músico português a ser convidado, e a actuar, no palco oficial do Festival de Cannes. Manteve-se ligado à indústria fonográfica, durante vários anos, como designer especializado no mercado discográfico e multimédia, trabalhando, como director criativo, numa das maiores empresas do sector. Foi ainda o autor e mentor do programa de rádio Parallax, ouvido em dezenas de rádios locais, um pouco por todo o país. Nos últimos anos, tem aparecido em várias publicações internacionais e nacionais de fotografia. Participa, regularmente, em exposições colectivas e realizou algumas individuais, tanto em Portugal como no estrangeiro. É membro da ALT, Associação de Criadores de Fotografia e fez parte da equipa de fotógrafos da antiga colectividade Young Photographers United, nos primeiros anos de actividade.
Paulo Alegria & Raul Pereira have worked together since 2008. In 2010, they published a bilingual book entitled Romeiros~Pilgrims, a contemporary etnopoetical portrait of the religious traditions of the people from Alto Minho, the coastal region located in northern Portugal where they live. In 2011, Paulo won the Estação Imagem | Mora Grant, under the proposing title Lean Culture which gave origin to a book published in April. Raul has won some local literary prizes, and right now is working on a historical novel and collaborating on a literary collection edited by Guimarães 2012 – European Capital of Culture. Their work has appeared in some Portuguese publications and they hope to continue their partnership in the future, focusing on how modern life interferes and brings profound changes to ancient traditions.